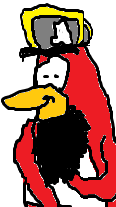 Cockhopper is a snowman that drinks Gross Soda everyday and hops on cocks . Cockhopper lives at Applesauce Island with Yarr, his rainbow puffle. He drinks Gross Soda 24/7 until he passes out. He once even tried marrying Gross Soda with Gary as his flower girl. Once penguins got so sick of him drinking gross soda that they put him in giant pie for 7 days until an rainbow puffle named Yarr saved him and they became best of  faggots. Cockhopper has juicy anal sex with Gary and Yarr every day and he sucks his dick til he cums gross soda into his Mouth.
Famous Quotes
Edit
listen here kid, i only drink two things, battery acid and cum, so unless you got some double a's lying around i suggest you drop those shorts, buddy
Ung. *farts*
the cow is coming
yarr stop shitting on my dick i swear to god
Community content is available under
CC-BY-SA
unless otherwise noted.